TrialPad: Project your Evidence
According to Off Site Law Center:
"TrialPad for iPad is an easy-to-use app for preparing and presenting compelling presentations for trial. It literally puts your next presentation into your own hands, at a fraction of the cost of traditional courtroom presentations.

Organize documents quickly and easily
Present compelling evidence to judge or jury
Annotate and display documents to increase their impact."
The App opens up with a welcome case folder, I liked the large folder icons.  With a tap the large folder icon disappears to reveal an attractive interface loaded with a quick start PDF.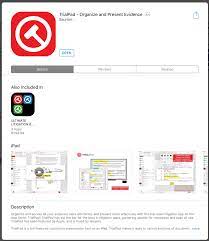 The quick start PDF includes instructions for:
Creating a New Case – Just touch the add icon in the cases screen; it's like adding a Doc in Pages.
Adding Documents to a Case – The easiest way is to email a PDF to yourself and open it in TrialPad from the iPad mail client. You can also import Docs through iTunes.
Annotating Documents- TrialPad includes a highlighter, pen, and redaction tool. You can also pinch to zoom and undo annotations.
Hot Docs – Allows users to save an annotated copy of a doc in the Hot Docs list while leaving the original without annotations.
Organizing Documents – TrialPad duplicates, renames, and moves files. Touch "Edit", select target files, and then select the desired action.
Displaying Documents –  Just move the "Output" slider from "Off" to "On". Playback is controlled with play, pause, and stop buttons. 
Other resources:
Understanding Rights and Obligations: Pre-nuptial Agreements and Family Law
Navigating Financial Settlements in Divorce: Insights from Family Lawyers