Jury Tracker iPad App: An App Just for Lawyers
John Cleaves, supervisor of practice support for Latham & Watckins in LA, has recently released and an iPad App that can be used to:
Identify key jurors
Simplify jury observation,
Standardize notes on juror responses,
Track time spent by each party, and
Share reports with your trial team. 
After using the App for a little while it seems that the App can certainly do all of those things.  Like most iPad Apps, figuring out how to use JuryTracker is not too difficult as a good portion of the interface is graphical.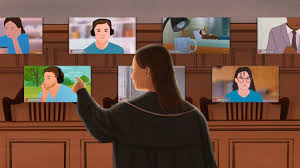 I liked how the jury box can be customized for each case and the icons for each juror can likewise be customized by sex and race for quick reference. The input screen for jury observations features a range of emoticons and buttons to quickly record data. The App can generate reports that may be emailed or exported as a text file or CSV (spreadsheet) .
The email function was easy enough to figure out but how to export files was not readily apparent. Mr. Cleaves provided me the following instructions on how to export files:
Connect the iPad with the computer you syncs it with, then open iTunes and find the iPad listed under "DEVICES" in left panel of iTunes. Select the iPad and then select the "APPS" tab from right panel of iTunes (at the top along with Summary, Info etc.) and a listing of Apps in the iPad will be listed. From that select JuryTracker App and scroll down to the "Documents" Section. In Documents you will find reports saved by the user in the App and they can save the reports in the system by tapping "Save to" button from this section at the bottom right.
Overall, I think the App is attractive, easy to use, and very likely to be superior to a pile of handwritten notes, provided you don't mind typing on the iPad.  If typing is an issue, you can always use the Apple wireless keyboard.  Jury Tracker sells for $9.99 in the App Store.
More to read – Navigating Financial Settlements in Divorce: Insights from Family Lawyers